The Contents Page: more useful functions.
As you already may know (from the Yahoo User Guide), the Contents Tree page is located in the Advanced Toolbar ( a button called "Contents"), and it includes important advanced store functions:
1) The Contents page is the fastest way to access the store's RTML Templates (by clicking the "Templates" button).

2) The Contents page displays the store structure visually (the store's Content Tree).
All page IDs listed under the link INDEX are considered as "structured", or included in the store structure.
Below the structured page IDs there is a white gap (white spot), which separates the "Structured" area from the "Basement", a special location that holds non-structured pages.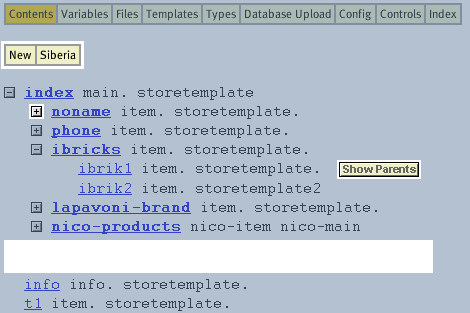 Not all pages need to be structured (i.e. special system pages norder, nsearch, ind, etc.), but don't forget to keep this area maintained on a regular basis. Keep in mind that unstructured pages are not visible in the store Menu table and will not leave behind a "breadcrumbs" link trail.
To "structure" a section page, simply list it within the Content property of the home page (Index). Only list a main section pages to avoid a "Number of Menu Links limitation" reminder.
The "+" sign is located next to a bolded section page link, and opens up to reveal other ID's ("child" IDs). The section page is a "Parent" for all the pages listed within.
If the page ID has a small button [SHOW PARENTS] from the right side, you could click on it to reveal all parent pages of this page. It is very useful if you have a page listed in multiple categories and need to find out where they are all located.
3) The Contents page has a unique button [NEW]. This is the only place in your editor to manually create store pages with a custom page ID (for instance, keyword-related page ID) and to select a desirable page type from the list (drop-down menu).
4) The Contents page has another special area called "Siberia" , which appears after you "CUT" a page.
If you remove your pages from the store structure, they will be put into the "Basement." They could still be accessible from the published store by direct links; however, the pages that are "Cut" will be sent to "Siberia" (or the Clipboard) and could not be accessed or searched from within your on-line store.
You could use "Siberia", for example, to store unavailable products if you are planning to use them in the future.
If you end up having a lot of items in Siberia, keep them organized:  create a page called "Unavailable Items", cut it and then list all the Siberia IDs in the content of this page. From now on, you will only see the link "Unavailable Items" at your Clipboard.

Tags: Yahoo Development, Yahoo ecommerce, Yahoo Store, Yahoo Store Customization, Yahoo Store Development
This entry was posted on Friday, March 23rd, 2012 at 11:31 am and is filed under Yahoo Store Editing: HOW TO. You can follow any responses to this entry through the RSS 2.0 feed. You can leave a response, or trackback from your own site.
Leave a Reply