Editing of RTML templates
Let's suppose that you've just opened a brand new Yahoo store account. You're excited and ready to put up your items for sale. But hold on a second. Before you upload the inventory items we insist that you follow these steps to create a list of Editable Templates.
By default RTML templates cannot be edited. To be capable of enhancing these templates, you need to make copies of all your base templates. This is a necessary step because afterwards, these template copies and newly created templates will have the possibility of being altered and edited.
As we have already said, you must make this list of Editable Templates before you upload any items because it will help you avoid the process of changing the templates for each item one by one.
So how does someone create a list of Editable Templates?
The first step you must take is to turn on the Advanced Editor Mode in the Control panel.

You will now see a second row of control buttons on the bottom of your main page

-Click on the tab called "Contents"
-In the contents page, click the yellow button named "Templates"
-Once you access this page you will see a list of all the templates.
-Find the template "Storetemplate." and click to open it.
-Find the "Copy Template" button and click it.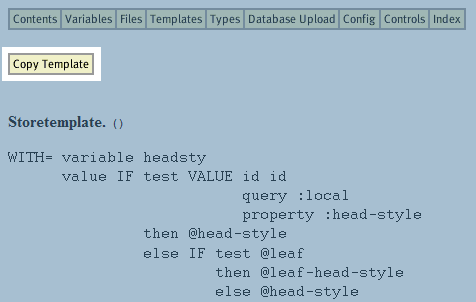 -There will be a field that will appear where you have to type in a name for the new template. An example could be, "New-Storetemplate"
-Click the "Copy" button.

Congratulations. You have successfully created a List of Editable Templates! To recap, this was made possible through a process of copying the parental template (Storetemplate). Afterward, the RTML system automatically copies subsequent templates on it's own, and all you need to do is apply this new template to your store pages by editing the store properties. This method will benefit you because you will have fewer pages to edit, and your workload will greatly decrease.
For example, let's edit the first page of the site (Home page). Open up the Home page and click Edit. Then within the "Template" property change Storetemplate to New-Storetemplate and click on the Update button. Do not worry; the page layout will remain the same, because the new template is the exact copy of the old one.
Finally, all you need to do is apply some changes to the Config page. This is marked by a yellow button called "Config" at the top or bottom of your store pages (depending on the page settings).

When you are in the Config page you must edit three drop-down menus (Default-item-template, Default-section-template, Default-group-template) and change Store-template to the new editable template.
As a result of taking these steps you now have the possibility to edit templates and to have all newly created pages under an editable template by default.
In our future articles we will discuss how to improve your Yahoo Store functionality by adding some small changes to the templates.
Tags: RTML Programming, RTML Templates, Yahoo Commerce, Yahoo Development, Yahoo ecommerce, Yahoo Store, Yahoo Store Customization
This entry was posted on Thursday, March 8th, 2012 at 3:55 am and is filed under RTML: Tips & Tricks, Yahoo Store Editing: HOW TO. You can follow any responses to this entry through the RSS 2.0 feed. You can leave a response, or trackback from your own site.
Leave a Reply